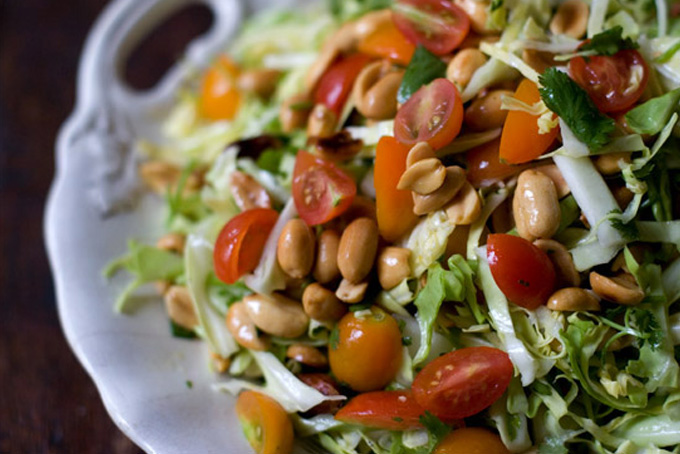 Serves 6, as a side
-1 1/2 c. unsalted raw peanuts
-1/2 of a medium-large cabbage
-1 basket of tiny cherry tomatoes, washed & quartered
(use something in season if possible)
-1 jalapeno chile, seeded & diced (optional)
-3/4 c. cilantro, chopped
-1/4 c. freshly squeezed lime juice
-2 T. olive oil
-1/4 t. + fine-grain sea salt
In a skillet or 350° oven, roast the peanuts for 5 to 10
minutes, shaking the pan once or twice along the way,
until golden and toasted.
Cut the cabbage into two quarters and cut out the core.
Using a knife, shred each quarter into whisper thin slices.
The key here is bite-sized and thin. If any pieces look like
they might be awkwardly long, cut those in half. Combine
the cabbage, tomatoes, jalapeno, and cilantro in a bowl.
In a separate bowl combine the lime juice, olive oil, salt.
Add to the cabbage mixture and gently stir to combine.
Just before serving fold in the peanuts (add them too early
and they lose some of their crunch). Taste and adjust the
flavor with more salt if needed. Enjoy!
From 101cookbooks.com, 7/08… Read the rest
Makes 2 cups (16 servings)
-3 medium tomatoes, finely chopped
-1 medium onion, finely chopped
-2 cloves garlic, minced
-2 to 3 fresh jalapeño peppers, seeded, ribs removed & finely
chopped (or substitute a mix of peppers in the box today)
-1 T. olive oil
-1 T. freshly squeezed lime juice
-2 T. chopped fresh cilantro
-Sea salt to taste
In large glass bowl, combine all ingredients and season to taste
with salt.
Refrigerate for at least one hour. Enjoy!
*Tips:
-This recipe is best when made several hours ahead of time
(and refrigerated) and given time to marinate.
-For a different twist, try adding corn, black beans, peaches or
mangoes to your salsa.
-This salsa will keep for several days if covered and kept
refrigerated.
Adapted from recipegirl.com, 4/12… Read the rest
Posted in Recipes | Tagged Cilantro, Garlic, lime juice, Limes, Onions, Peppers, Tomatoes
Serves 8
-1 1/4 lbs. kohlrabi bulbs, peeled
-1/2 t. grated lime zest
-2 T. fresh lime juice
-1/4 c. extra-virgin olive oil, divided
-2 lbs. kale (2 bunches), stems, center ribs discarded
-5 garlic cloves, finely chopped
-1/3 c. salted roasted pistachios, chopped
Slice kohlrabi very thinly with a mandoline or knife.
Whisk together lime zest and lime juice, 2 tablespoons oil, and
1/2 teaspoon each of salt and pepper in a large bowl. Toss
kohlrabi with dressing. Finely chop kale.
Heat remaining 2 tablespoons oil in a 12-inch heavy skillet over
medium-high heat until it shimmers. Sauté garlic until pale
golden, about 30 seconds.
Add kale by the handful, turning and stirring with tongs and
adding more kale as volume in skillet reduces. When all of kale is
wilted, sauté with 1/2 teaspoon salt until just tender, about 3
minutes.
Transfer to a bowl and cool to room temperature.
Toss kale with kohlrabi and pistachios. Enjoy!
Adapted from Ian Knauer, Gourmet, 2009… Read the rest
Posted in Recipes | Tagged Garlic, Kale, Kohlrabi, lime juice, Limes
Serves many
-1 ripe yet firm avocado, cut into 1/4-inch dice
-1 large red bell pepper, roasted, peeled, seeded & diced
-1 large yellow bell pepper, roasted, peeled, seeded & diced
-2 T. minced red onion
-1 T. chopped cilantro
-1 garlic clove, minced
-2 T. fresh-squeezed lime juice
-1 t. rice vinegar
-2 t. extra-virgin olive oil
-1/2 t. coarse salt
-1/4 t. black pepper
In a large bowl, combine avocado, roasted red and yellow
peppers, onion, cilantro, and garlic.
In a small bowl, whisk together the lime juice, rice vinegar,
olive oil, salt, and pepper. Pour over avocado/pepper
mixture and stir gently to combine.
Refrigerate, covered, until ready to use. Remove from
refrigerate 1/2 hour before serving to bring to room
temperature. Enjoy!
Adapted from Chef Sarah Scott @ Robert Mondavi Winery
of California
Posted in Recipes | Tagged Avocado, Cilantro, Limes, Onion, Red Bell Pepper, Yellow Bell Pepper
Squeeze juice onto salted, buttered corn-on-the-cob.
Blend zest with cilantro, garlic, salt and olive oil. Mix into freshly cooked white rice.
Mix juice and zest with chives and stir into softened butter.
Cut in half and squeeze over fresh cut papaya or mango.
Sauté shrimp, lime, salt, pepper, and a few chopped onions in a skillet.
Mix juice with an equal amount of triple sec and tequila.
Toss some zest in to shortbread cookie dough before baking.
Make vinaigrette by mixing lime juice with equal part honey, double amount of olive oil and a bit of chopped cilantro.
Sprinkle juice over avocado to prevent discoloring. Mash with garlic and salt for a simple guacamole.
Mix with sugar water – limeade!