Serves 4
-1 head of cauliflower, chopped
-juice of 1 lime
-2 cloves garlic, minced
-1/2 cup fresh cilantro, finely chopped
-1tsp. cumin
-1 avocado, diced
-sea salt and freshly ground black pepper
Preheat your oven to 425°.
In a bowl, combine the cauliflower, lime juice, garlic, cilantro, cumin, and season with salt and
pepper to taste.
Place the cauliflower mixture in a baking dish and bake for 15 minutes in the preheated oven.
Top with chopped avocado and serve.
From paleoleap.com… Read the rest
Posted in Recipes | Tagged cauliflower, Cilantro, Limes
-12-14-tomatoes, quartered
-1 jalapeño or any other peppers, seeds and stem removed
-1 white onion, cut into 8 pieces or so
-6-8 garlic cloves, peeled
Put all above on a cookie sheet lined with parchment paper. Roast under broiler until all items are blistered and slightly charred.
Let cool.
Slide into a high sided bowl then add:
-1 bunch chopped cilantro
-Juice of one lime, or to taste
-1/2 t. cumin
-Salt to taste
Use an immersion blender (less messy) and chop till desired texture or chop in food processor. Enjoy!
Posted in Recipes | Tagged Cilantro, jalapeño, Limes, Onion, Tomatoes
Serves 6
-2 med. beets, roasted peeled, halved & cut in thin half-moons
-2 med. fennel bulbs (about 1 1/4 to 1 1/2 lbs.), trimmed, quartered, cored & sliced very thin across the grain
-1 navel orange, peeled, pith cut away, & cut in thin rounds or sections
-2 T. chopped fresh mint
-1 T. chopped cilantro
-2 T. lemon or lime juice
-¼ t. sugar
-½ t. lightly toasted cumin seeds, crushed
-Salt to taste
-1 sm. garlic clove, puréed (optional)
-¼ c. extra-virgin olive oil
Combine beets, fennel, orange slices or medallions, mint and cilantro in a large salad bowl.
Whisk together lemon or lime juice, sugar, cumin, salt, optional garlic and olive oil.
Toss with the salad and serve. Enjoy!
By Martha Rose Shulman on nytimes.com, 9/14… Read the rest
Posted in Recipes | Tagged Beets, Cilantro, Fennel, Lemon, Limes, mint, oranges
Makes 6
-12 squash blossoms
-6 corn tortillas (preferably 6-inch)
-1 1/2 c. coarsely shredded pepper Jack cheese
-1 T. cilantro leaves, chopped
-Freshly ground black pepper, to taste
Carefully look over the squash blossoms and brush off any dirt or small bugs you might find. Carefully remove the stems and stamens. Take note that the blossoms are quite delicate, so by all means resist the urge to wash them.
Warm a cast-iron skillet or other heavy pan over medium heat. Place a tortilla in the warm pan and heat, turning once, for about 15 seconds on each side to soften.
Sprinkle about 1/4 cup cheese, 1/2 teaspoon cilantro, and some pepper on half the tortilla. Place 2 squash blossoms on top of the cheese, arranging the flower petals at the edge of the tortilla so they peek out slightly. Fold the tortilla in half and press down lightly with a spatula.
Cook for about 1 minute, then flip and cook the other side for 1 minute more, until the tortilla is thoroughly warmed and the cheese has melted.
Transfer the quesadilla to a paper towel-lined plate and repeat to make 5 more squash blossom quesadillas. Serve warm. Enjoy!
From leitesculinaria.com, 7/14… Read the rest
Posted in Recipes | Tagged Cilantro, Squash Blossoms, zucchini blossoms
Makes 2 quarts
-2 c. black beans
-Sea salt
-3 T. olive or sunflower seed oil
-1 lg. onion, finely diced
-2 sm. carrots, finely diced
-3 celery ribs, finely diced
-1 green bell pepper, finely diced-3 garlic cloves, minced
-1 bu. of cilantro, stems finely sliced and leaves more roughly choppe
-1 T. toasted ground cumin seeds
-1 t. Spanish smoked paprika, or more to taste
-2 bay leaves
-1/4 t. cayenne, or more to taste
-1/2 c. sour cream
Juice of 1/2 lime, or more to taste
Rinse the beans and put them in a pressure cooker with 1 1/2 teaspoons salt and 10 cups water. Bring the pressure to high, then maintain it for 30 minutes. Release it and let it fall by itself. Taste the beans. If they're not soft enough, simmer them until they are.
Meanwhile, heat the oil in a medium skillet. Add the onion, carrots, celery,  green pepper, garlic, and cilantro stems. Cook over medium-high heat, stirring frequently, until the onion has softened. Season with 1 teaspoon salt and add the cumin, paprika, bay leaves, and cayenne.
Lower the heat and cook for 10 minutes longer, stirring occasionally and taking care not to let the paprika and cayenne burn. Add 1 cup water and continue to cook until the onion is soft, about 8 minutes.
Stir the onion base into the beans along with all but 3 tablespoons of the chopped cilantro leaves and cook over low heat, covered, for 20 minutes. Taste for salt.
Mix the sour cream, lime juice, and remaining cilantro together and season with a pinch of salt. Serve a spoonful in each bowl of soup.… Read the rest
Posted in Recipes | Tagged Bell Pepper, Carrots, Cilantro, Limes, Onion, Paprika, Smoked Paprika
Makes 2 quarts
-1 large onion, sliced
-1 large zucchini, sliced
-1 c. diced canned or fresh tomato
-6 plump garlic cloves
-1 large carrot or several smaller ones, diced
-3 celery ribs, chopped-1 or 2 big handfuls of cilantro
-Large handful of parsley
-Several chard or beet leaves
-Handful of lentils
-Several anise hyssop leaves or a good pinch of anise seeds
-2 t. dried Mexican oregano or 8 regular oregano sprigs
-1 jalapeño chile, halved
-2 t. sea salt
-1 t. peppercorns, lightly crushed
-Tomato paste to taste, optional
Put all the ingredients except the tomato paste in a pot with 3 quarts water. Bring to a boil, then lower the heat.
Simmer, partially covered, for 2 hours, then strain.
Taste for salt and, if you wish to fortify the flavor a bit, stir in a teaspoon or more tomato paste to taste.
From Vegetable Soups from Deborah Madison's Kitchen, Deborah Madison… Read the rest
Posted in Recipes | Tagged beet greens, carrot, Chard, Cilantro, jalepeno, Onion, oregano, Parsley, Summer squash, Tomato, Zucchini
-3 c. thinly sliced carrots
-1 c. thinly sliced radishes
-1 c. thinly sliced scallions
-1 lime, juiced
-Extra virgin olive oil, to taste (about 1 tablespoon)
-Kosher or sea salt, plus more for sprinkling
-1/4 c. minced cilantro
Place the carrots, radishes and scallions in a large bowl.
In a small bowl, whisk together the lime juice, oil and salt.
Pour the lime mixture over the carrot mixture; toss to coat. Fold in the cilantro.
Allow to sit, at room temperature or in the fridge, for at least 10 minutes before serving.
Serve cold or at room temperature, with a sprinkling of salt, if desired. Enjoy!
From sapelofarms.com… Read the rest
Posted in Recipes | Tagged Carrots, Cilantro, Limes, radishes
Serves 2-4
-1lb. beets, peeled and very thinly sliced
-1 avocado, cubed
-1/2 Serrano chile, thinly sliced
-1 lime, juiced
-1 T. olive oil
-1/4 c. packed cilantro leaves
Cut off and discard the top and root end of the
beets, then peel them.
Slice them as thinly as possible with a knife or
mandoline. Set aside.
Mix the rest of the ingredients together.
Toss everything together in a large bowl and add
salt and pepper to taste. Enjoy!
Adapted from cookthink.com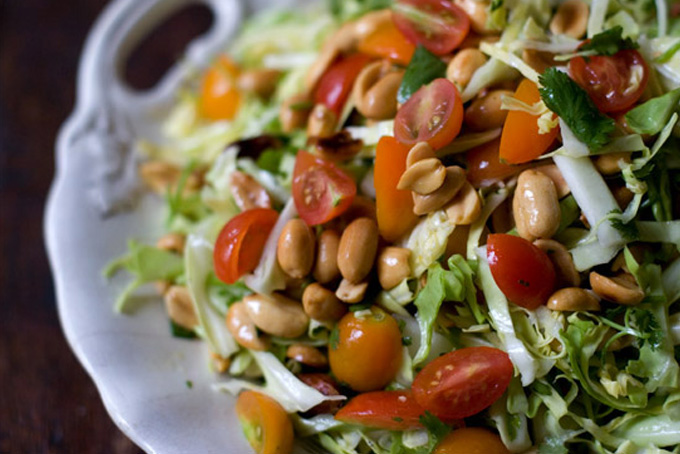 Serves 6, as a side
-1 1/2 c. unsalted raw peanuts
-1/2 of a medium-large cabbage
-1 basket of tiny cherry tomatoes, washed & quartered
(use something in season if possible)
-1 jalapeno chile, seeded & diced (optional)
-3/4 c. cilantro, chopped
-1/4 c. freshly squeezed lime juice
-2 T. olive oil
-1/4 t. + fine-grain sea salt
In a skillet or 350° oven, roast the peanuts for 5 to 10
minutes, shaking the pan once or twice along the way,
until golden and toasted.
Cut the cabbage into two quarters and cut out the core.
Using a knife, shred each quarter into whisper thin slices.
The key here is bite-sized and thin. If any pieces look like
they might be awkwardly long, cut those in half. Combine
the cabbage, tomatoes, jalapeno, and cilantro in a bowl.
In a separate bowl combine the lime juice, olive oil, salt.
Add to the cabbage mixture and gently stir to combine.
Just before serving fold in the peanuts (add them too early
and they lose some of their crunch). Taste and adjust the
flavor with more salt if needed. Enjoy!
From 101cookbooks.com, 7/08… Read the rest
Makes 1 1/2 cups
-1 lb. Fuyu persimmons, peeled, seeded, & diced small
(~3 medium persimmons)
-1/4 c. minced onion
-1 t. minced garlic
-1/2 t. minced ginger
-1 T. minced cilantro
-2 T. Meyer lemon juice
-1/4 t. salt
Peel, seed, and dice the persimmons into small pieces.
Mix all the rest of the ingredients in a medium sized bowl.
Taste and adjust the salt and lemon juice to taste. If you
are using Eureka lemons instead of Meyer, you may want
to add a bit more juice.
Cover and refrigerate for 30 minutes before serving to
allow the flavors to meld. Enjoy!
From mypantryshelf.com, 12/12
Posted in Recipes | Tagged Cilantro, Fuyu, Fuyu persimmons, garic, Garlic, Lemon, Meyer lemon, Onion, persimmons